Zürich Day I
As promised, this post is all about Zürich. Zürich is a beautiful city - old and rustic with a lot of history, just like most of the other European cities. It is also where I had my first experience with snow. I'll never forget when I first stuck my tongue out into the freezing air to taste snowflakes haha.
And the tour we've decided to go on was Mount Titlis that claims to have snow all year round. Luckily it was winter anyway so snow was in abundance!
In the tram on our way to the pickup location for the tour
Judith and Octavia(hmm...notice how this post is similar to that of my Paris post)
The rest of the pictures there on was a blur because they were all taken from the bus. But this is a nice clear-ish shot of of a 'cottage' on the way up to a little town called Engelberg where Titlis is.
'Cottage'
so excited to see snow!
From Engelberg, we took a cable car up the mountain. The weather got worse as we ascended. We were told that the temperature would drop as low as -17°C outside!!
Brrrrr!
As we arrived, there were a few places from which we can start. This is the glacier tunnel. Apparently the temperature in here never goes higher than 0°C. Hence the glacier stays frozen and the tunnel remains even during summer. See this little column I'm leaning against? There are buttons on top of it with names like "Disco" and "Pop" ...etc. Press on a button and the tunnel is instantly played with the choice of music. As for me, I pretty liked the "Yoddle"!
Yoddle-lay-hee-hoo!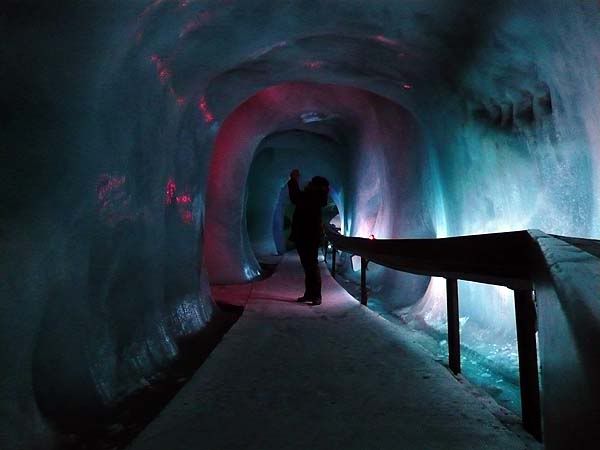 Surprisingly, the particular tour company we decided to join that day had us and two other people only...
This is what happens when you set FOUR cameras on timer to go off at the same time
Later on, we put our sustenance towards cold to the test and out we went into the blizzard!
Dense!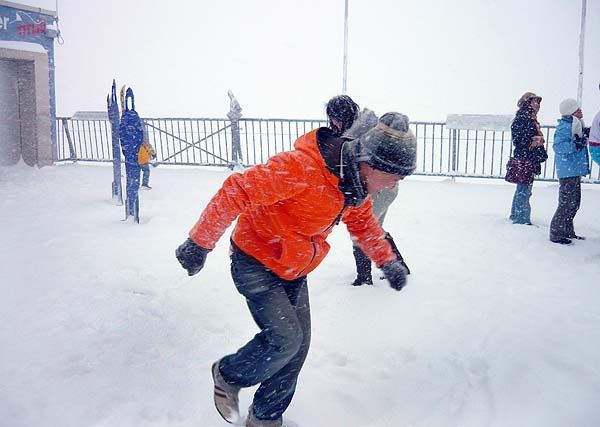 What's a snow experience without snow angels?
Lunch time. The best thing about the cold is you get to sip chocolate at its best - super hot and frothy! Mmm mm! And by the way, that meal there was heavy on the cost, literally! They charge by weight up there so you really 'watch your weight' when you eat, mind the puns!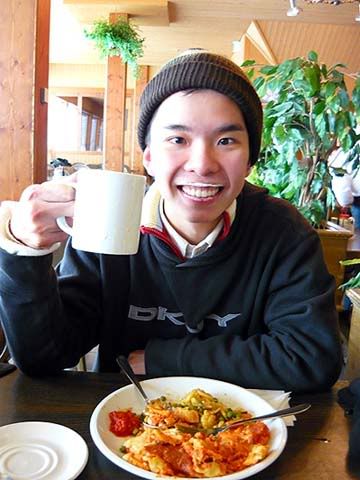 Leaving Titlis
I love this picture because of its background. Stunning mountains nice pine trees. It's as if God was coating His
Black Forest Cake
with icing sugar...sweet :)
Next, the tour took us to the city of Luzern (or Lucern)for a little souvenir shopping, in case we didn't get enough of them at Titlis.
Back in Zürich Central Station, there was a night market made especially for Christmas. There were pushcart stalls everywhere selling decorative items and everything Christmas. They even had stars projected on the ceiling!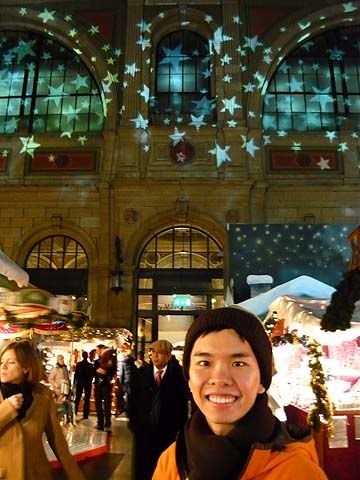 And there stood this huge Christmas tree with white glittery things all over it. A closer look and we realized these white things are in fact...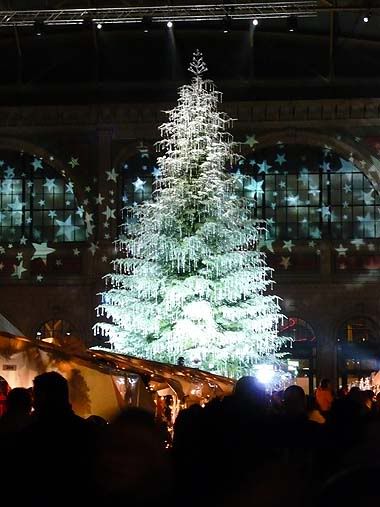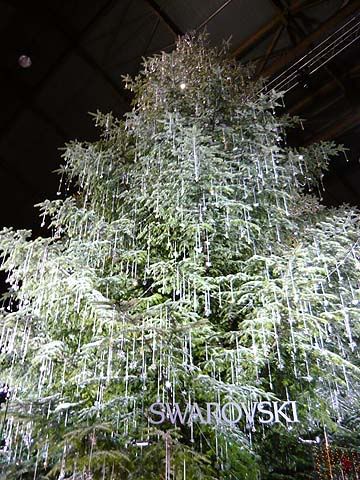 ...Swarovski crystals!
-n-