Ulu Yam (29 July)
Two months ago, William's friend's friend Leona from FCM wanted to take pictures of a waterfall for her assignment. William suggested to drive her there while we tagged along in a car whose owner shall not be named *Winks* hahaha!
And so we arrived at this little village at the foot of the hill...there were people selling fruits and vegetables by the road. It was a muddy day. We didn't know exactly where the waterfall is and Jon's GPS only took us as far as the main roads go. So I went and ask a fruit seller lady. She seemed like she spoke mandarin, so I asked...
Me : Excuse me, can you tell me the way to the waterfall?
Lady: Ha mi ar? (What? in hokkien)
Me : (In Hokkien)How do I get to the....
at this point, I was figuring out how to say 'waterfall' in Hokkian
Me : (still in Hokkian)...the place err...where the water comes down...water...water....
the lady watched me as I mumbled...then suddenly she got what I said...
Lady: Oh!! Air terjun ar?
She went on saying that she didn't know how to get there, and directed me to the opposite stall for further inquiries...
...and we finally got to the waterfall.
Brokenscrew and err...monkey?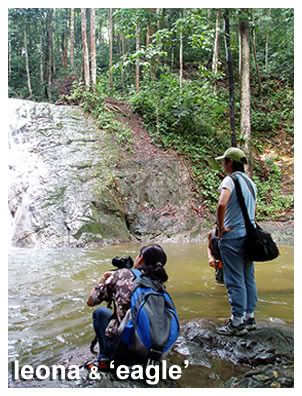 Leona and 'EAGLE!'...actually her real name is Liu Yan
After a while at the waterfall, we were joined by a group of enthusiastic elderly trekking their way to the highest part of the waterfall. Amused by our doings, they asked where we came from what what we're doing...and later we (well...only me) even took a picture together. They were from the Malaysian Buddhist Co-operative Society in PJ.
Then a group picture of us...next to some skinny dippers...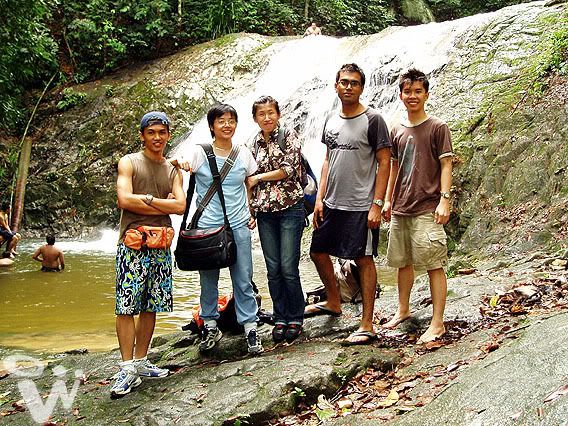 William, 'Eagle!', Leona, Jon, Me
It's funny how I always attract insects...
...they love me!! hahahah
Later that day, William brought us to Rawang...and his grandmother's house where there were chickens, dogs...
I think they are an item ler...
...and nice food, too. hehe. Didn't get a good picture of the whachamacallit hot sauce over crispy fried noodle...mmmm
Of all the things, I had to take a picture of William's bitch...