It's been exactly four months since I first step foot into Paris. It was my birthday when I arrived. I can still remember the thrill when I peeked out of the aircraft window. And just before I disembark, my colleagues gave me a surprise birthday bash with cake and all - business class style :D
Here's just a summary of events
The next day, Cass, Cherry, Karen and I decided to tour Paris:
That's chez Clément restaurant - quite a posh place. Le Meridien(where we stayed) is just a few doors away.
We headed down Avenue de la Grande Armée towards Arc de Triumphe. There we had breakfast by the street - French omelette with sausages and a hot cup of chocolate, coupled by the cold autumn(near winter) weather <- This is my dream come true, man!
Rue Saint-Ferdinand
Arc de Triumphe
To go to Champs Elysées, we have to go through an underpass.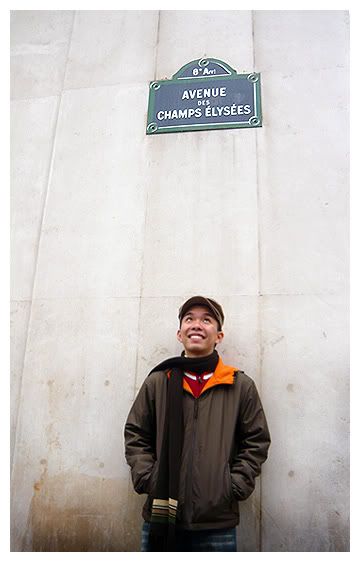 Champs Elysées
From Champs Elysées we took a train to the Louvre.
The infamous glass pyramid of Louvre
The Louvre is situated in a huge courtyard where there are statues everywhere. Cass is with one here hehe
Outside Louvre there's a pond for ducks and gulls to feed. While I was attracted to the birds, this little French cutie caught the girls' eyes. Her dad was kind enough to share some bread to feed the birds
We continued our journey to a shopping mall called La Fayette. On the way we stopped by a little shop for some crêpes just around Place de la Concorde
Place de la Concorde
Crêpes!
After crêpes, we were off to La Fayette to shop. Louis Vuitton? Anyone? Not me!
On the way...
Lost?
Crossing Rue Duphot at Boulevard de la Madeleine
...found a church - The Madeleine
Inside Madeleine
The National Music Academy
After a couple of hours waiting for the girls to get their LV stuff, we could finally go visit the Eiffel Tower!
Down by the road just before the tower, there's a working carousel and a few snack stalls. This particular stall looked very amusing...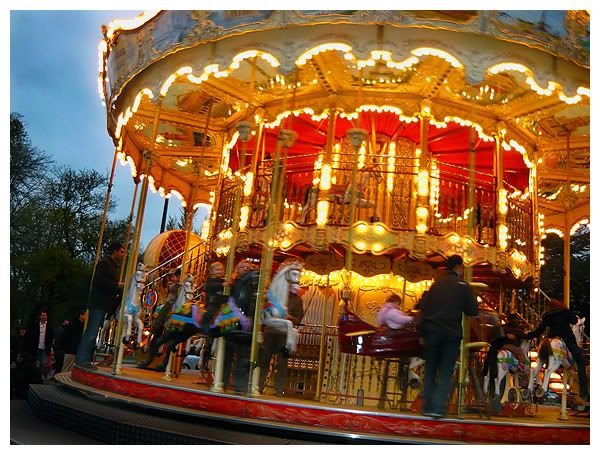 ...dizzy...
The sign says Churros bien chaud. Churro is a spanish pastry very much like doughnut but is deep fried. Read more about it
here
This is how it's made. First the CHURROMAN squeezes the dough out of the machine, which molds it into an long 8 sided star like PLAYDOH. He then cuts the dough into desired length, right into a hot pot of oil.
Churros bien chaud - Very hot Churros!
Once the churros are cooked to golden perfection, he tosses them with sugar and voila! It's done. :D
A 'pyramid' of churros cost 5 euros and with and addition of 1 euro, you can have nutella chocolate for dips!
yummy!
Just in time for a group photo after some yummy churros
Being under the Eiffel tower was surreal. I remember having to see pictures or watch movies(like this one here) of the Eiffel tower and think "how I wish I were here", and here I was it was right under my nose...in a way.
The queue at the tower was tremendous! We waited for almost an hour to get our tickets. To go all the way up to the top of the tower costs 12euros but it was worth it after all. The view was breath taking even though it was freezing up there.
A view from the top indeed!
North, South, East and West pillars
Later that night after returning from sight-seeing, we went for a feast of mussels at Léon de Bruxelles near our hotel.
That's all for Day I in Paris. In Day II, I will be out and about in Paris alone, on a bicycle!