A couple of weeks ago my sister, Kelly and I decided to go have a look see the very 'famous' Taman Pertanian in Shah Alam. I've been there when I was a little boy but only remember passing by the padi fields...and that is all. Since Kelly's dad would take his morning jobs here every Sunday, we decided to bump into him that day.
As we approached the entrance of the park, there were multiple sign boards that had different names to the park, which was pretty confusing. Once there, there wasn't much amusement to it. It was just a normal park. I remember the crowds of people cramming on the little tar road to see the park when it was newly opened. Here are some pictures taken there.
Here is a monument at entrance of the park (where you pay to enter). It's some sort of concrete monument that signifies a tree that bears all fruits. You can see concrete durians and mangosteens here.
Kelly and my sis, Suan pose for the camera. Here is where we waited for the park to open. We had free sausage McMuffins for free courtesy of me!
Heard what the parot said? No. The parot made no noise. The myna bird on the other hand can make motorbike honks!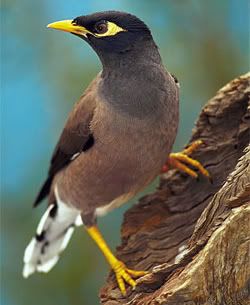 Just in case you guys don't know what a myna is, this is it. I didn't take this photo.
It's like a little zoo here. There are so many animals!
There are porcupines!?
...and a domestic cat...
God knows what this turkey is fussing about!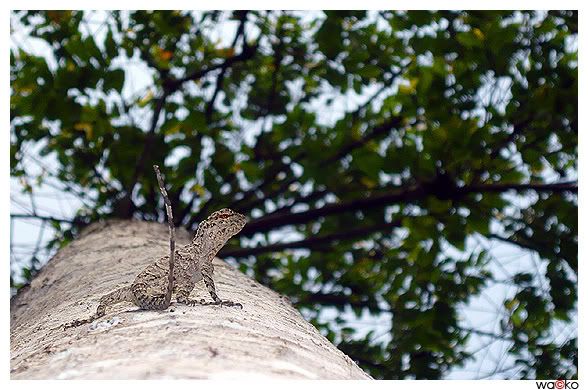 Lizard. Spotted it when I was taking a picture of myself by the lake.
The most fun thing to do while you're here is to cycle. Once you're tired, the next best thing to do is to take the bus.
There were lots of flowering plants too but I didn't get to take most of them properly. Here are some: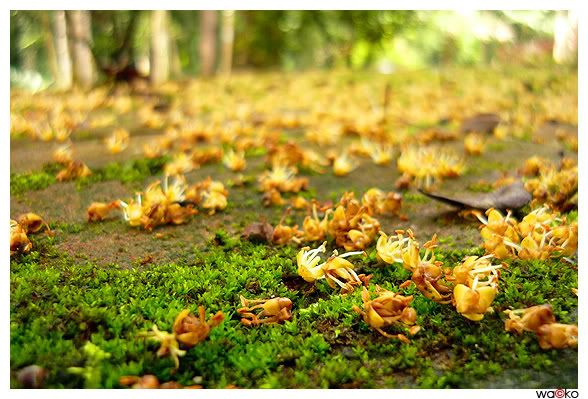 Here using macro, my favorite styles of all, I took a bed of fallen mango flowers.
If I were 75, there would have been countless pictures of Bunga Raya just like this.
After the whole morning on bike, we resorted to taking the bus and had a final view of the whole park without having to walk. It's really relaxing to just sit back and enjoy the view...
... and some good'ol fashion ice cream!!
'Ais Krim' served old school style! Yummy!!